Sandrine Beauche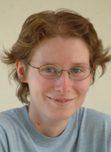 Engineer
INRIA ARLES - Bât 14
Domaine de Voluceau
78153 Le Chesnay
01 39 63 59 18
Email
This e-mail address is being protected from spambots. You need JavaScript enabled to view it
Biography
I am currently expert ingeneer in the ANR SemEUsE project: a project that support semantic for functional and non-functional properties into an Entreprise Service Bus (ESB).
I perform experimentations about approaches for the QoS-Aware Service Composition and the composition of connectors. I work in collaboration with Nebil Ben Mabrouk.
Before working in ARLES, I obtained my Master's Degree in Computer Science-Distributed Applications and Systems (SAR) from Pierre et Marie Curie (UPMC) University, Paris 6.
Publications