!- Converted with LaTeX2HTML 0.6.4 (Tues Aug 30 1994) by Nikos Drakos (nikos@cbl.leeds.ac.uk), CBLU, University of Leeds ->
---



Next:
References
Up:
The MODULEF library
Previous:
Conclusion
---
---
MODULEF runs successfully on a number of computers such as HP700, CRAY, HP/Apollo, IBM, SILICON, SUN, KSR... etc.
The library source code is given either on cartridge.
For those users working on a UNIX system, the MODULEF implementation is now facilitated by the use of a makefile for installation.
In addition, the MODULEF system requires a Fortran 77 compiler with the following two extensions:
If an array of type INTEGER is the actual argument in a subroutine, the corresponding dummy argument can either be an array of type INTEGER, REAL or DOUBLE PRECISION.
A variable of type INTEGER must be large enough to contain 4 characters (in general, 32 bits or more).
The minimum configuration is indicated below.
Installation :
The minimum disc space required for the installation of the MODULEF system is approximately 100 Mo. For example, on SUN4 this space is occupied as follows:


These values are merely indicative as they depend on the machine used, the compilation options selected, and the executable files created (it is not obligatory to create all the executables).

Utilisation :
The memory necessary to execute MODULEF depends on the problem under consideration. The larger the number of unknowns, the larger the size of the super-array to be reserved. As an indication, a 2D elasticity problem with triangles and degrees of freedom ( nodes) requires:

This problem was solved by a simple conjugate gradient method (one D.S. AMAT and one D.S. B) with the following configurations:

The organisation of the directories containing the MODULEF source code and the non-portable part is shown in figures

and

, respectively.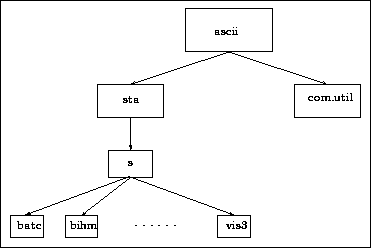 Figure: Organisation of the MODULEF source code.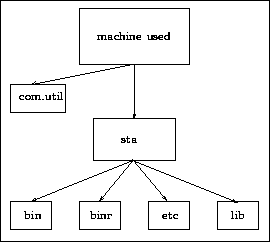 Figure: Organisation of the non-portable part of MODULEF

---



Next:
References
Up:
The MODULEF library
Previous:
Conclusion
---
---